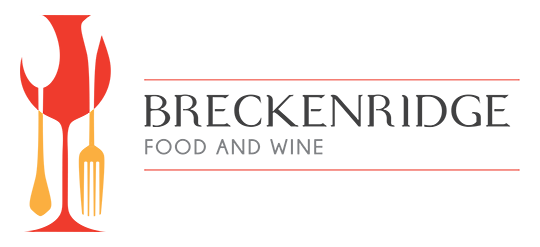 July 26th – 28th, 2019
THE GRAPES ARE CALLING FROM BRECKENRIDGE
Breckenridge Food and Wine Returns to Breckenridge and You Must Go!
Main Street Station & The Village at Breckenridge (Saturday, July 27th):  Main Street Station Plaza and The Village at Breckenridge Plaza, located at the base of Peak Nine in Breckenridge, CO transform into a tasty, mountainside vineyard at Breckenridge Food and Wine on Saturday, July 27th.  The event is hosted by Rocky Mountain Events, LLC., Presented by Slifer, Smith and Frampton and will benefit the Breckenridge Mountain Rotary.  From the soft and smooth to the unabashedly bold, guests will get more than their fair share of delicious sips.  And, so the palate doesn't get lonely, foodies will appreciate the yummy small dishes available "a la carte" to accompany each vintage.  Sample over 300 wines from Breakthru Beverage Company (Colorado) and wineries from around Colorado, find your favorite food pairing, dance to some live music, chat with our special guests from wineries from around the world, enter to win a trip to Napa Valley in the Silent Auction or revel in the VIP Experience.  Whatever your flavor, there is something for everyone!
The weekend begins with the Food and Wine Pairing Dinner featuring wines from the Hess Collection on Friday, July 26th at SAUCE on the Maggie restaurant.  Doors open at 6:30pm and dinner service at 7:00.  Taste the rich flavors and aromas that make wine and cuisine pairing so special.  From the presentation to the pour, Ryan Jones, the Hess Winery Representative will provide insights into the pairing process while Chef Jesse Redding shares his inspiration behind the fare selections.
On Saturday, the Grand Tasting gets underway at 1:00pm for VIP's and then 2:00pm – 6:00pm for General Admission ticket holders.  This year's festival is bigger and better than ever!  Our amazing wine, food and retail vendors will fill up both Plazas.  We have a wide array of varietals of wine from all over the world, local artisans, delicious food dishes from local vendors, craft beer, specialty goods and even ice cream!   Guests will also enjoy performances from the amazing and stunning Spinphony, a Denver based electric string quartet.  Breckenridge Mountain Rotary will host a Silent Auction including a trip to Napa Valley to raise important funds for their continued humanitarian efforts.
To close out the festivities, on Sunday, "Brunch and Vines" will be held at SAUCE on the Maggie Restaurant.  Doors open at 11:00, food service until 1:00.  Guests will be able to sample bubbly and specialty cocktails while indulging in a delicious breakfast buffet.
Treat yourself – you deserve something perfectly amazing.  Purchase tickets to Breckenridge Food and Wine and see the complete event details @ www.rockymountainevents.com/breckenridge-food-wine/
Other event Sponsors and Partners include: Breckenridge Grand Vacations, Korbel Champagne, BreckResorts, Main Street Station Plaza, The Village at Breckenridge HOA, Wyndham Vacation Rentals, Hyatt Residence Club, BreckInsider, Best of Breck, Town of Breckenridge the Merchants of Main Street Station.
Rocky Mountain Events, LLC. (RME), was established in 2014 and specializes in delivering unique and extraordinary events to mountain towns across Colorado.  The group shares over 40 years of event planning experience in Summit County.  RME currently oversees the Master Public Event Calendar for Main Street Station Plaza in Breckenridge.