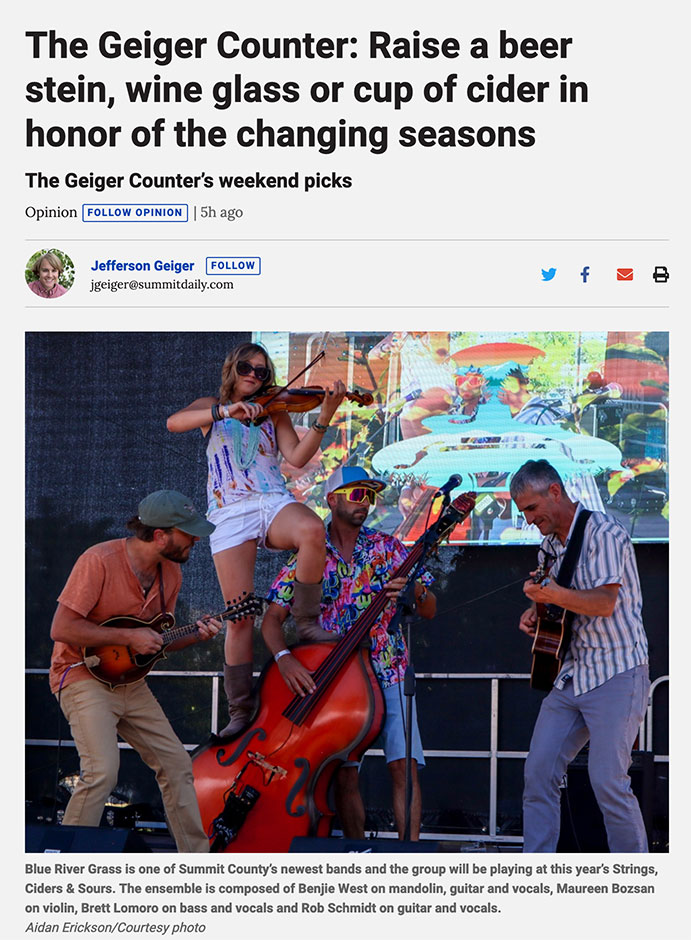 Summit Daily News
Breckenridge, CO
9/15/22

In Breckenridge, Strings, Ciders & Sours offers a completely different selection. As the name implies, guests can expect bluegrass music, hard cider and sour beer Friday, Sept. 16, through Sunday, Sept. 18.
Festivities start at Sauce on The Maggie with a cider and sour dinner pairing. Then the grand tasting runs from 2-6 p.m. at Main Street Station Plaza Saturday, Sept. 17. VIP ticket holders can access the tasting at 1 p.m. and a hospitality lounge in Quandary Tequila Bistro from 12:30-5 p.m.
Regardless, attendees will receive a commemorative glass for unlimited samples while listening to bluegrass. Providing music is Durango's Liver Down The River as well as Summit County's own Blue River Grass. Food is available to purchase a la carte.
Don't be turned off by "sour" in the festival name. The level of tartness can vary widely between brew styles and ingredients. I had a blast attending in 2019, as the unique offerings make it stand out from other beer festivals.
Closing out the festival is a Sunday brunch at Sauce on the Maggie from 11 a.m. to 1 p.m. for all-access passholders.
Saturday's grand tasting starts at $40 in advance while the VIP experience is $65. The all-access pass, which includes VIP access as well as the pairing dinner and Sunday brunch, is $125. Designated drivers can attend for free to enjoy the music and food.