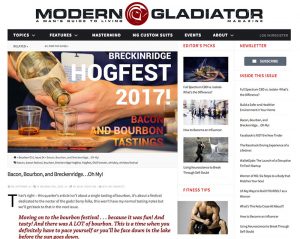 Bacon, Bourbon, and Breckenridge…Oh My!
That's right – this quarter's article isn't about a single tasting of bourbon, it's about a festival dedicated to the nectar of the gods! Sorry folks, this won't have my normal tasting notes but we'll get back to that in the next issue.
Moving on to the bourbon festival . . . because it was fun! And tasty! And there was A LOT of bourbon. This is a time when you definitely have to pace yourself or you'll be face down in the lake before the sun goes down.
The second annual Breckenridge Hogfest, Bacon & Bourbon, took place on Saturday, August 26 in Breckenridge's Main Street Station . . . and not only did it feature Denver favorite Tender Belly bacon, it also featured a number of bourbons to keep your taste buds in heaven for hours if not days. Not to mention, they had two live bands to keep up with all of those bourbon drinkers.