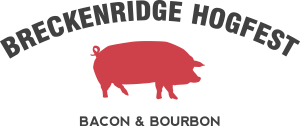 Breckenridge HogFest – Bourbon & Bacon Returns to Breckenridge, CO
 On Saturday, August 24rth In the beautiful, streamside town of Breckenridge, CO where the blue sky meets the mountains, the Plazas at Main Street Station & The Village at Breckenridge, located near the base of Peak Nine, will transform into a little slice of Heaven for both bourbon and bacon lovers alike. Come taste and explore your way through this whiskey extravaganza while indulging in all things swine and divine! Breckenridge HogFest is hosted by Rocky Mountain Events, LLC., Presented by Slifer, Smith and Frampton and sponsored by Buffalo Trace Bourbon. This year's festival will be bigger and better than ever!
The weekend begins on Friday, August 23rdth with a Bourbon Pairing Dinner sponsored by Buffalo Trace Bourbon and featuring bourbons from the Sazerac Company at SAUCE restaurant. Doors open at 6:30pm and dinner service will begin at 7:15. Get ready to dive into a night to remember with the selection of bourbons paired with the Chef Michael Irwin's pork & bacon themed creations.
On Saturday, the Grand Tasting gets underway at 2:00pm for General Admission ticket holders. Guests can taste and explore their way through our amazing selection of bourbons, whiskeys and other craft spirits from near and far. And, so the palate doesn't get lonely, several local restaurants including Moe's BBQ will provide bacon inspired dishes "a la carte". Our friends at River Bear Meats have been gracious enough to provide bacon samples for us! Get there early to get yours while supplies last. Last call on alcohol sampling will be at 5:30.
If VIP is more your style, you may choose to step it up and purchase the VIP Experience Pass and join us at the Slifer, Smith and Frampton VIP Lounge at Sauce starting at 12:30 for complimentary food and spirits. You'll have exclusive access to sample allocated and hard to find whiskeys such as Old Rip Van Winkle 10 Yr! Take advantage of the Early Access to the Grand Tasting at 1:00 with the VIP Pass and beat the crowds!
Like good music? Then you are in the right place! You do not want to miss the debut performance of The Lemonade Allstars featuring Bobby Messano (Steve Winwood), Bob Malone (John Fogerty, Ringo Star) James Dumm (Fox Street, Coal Town Reunion) Eddie Christmas (New Orleans Suspects, Jon Cleary) Johnny Ryan and Jeff Bostic (Johnny and the Mongrels) brought to you by Snapped on the River Music. Get ready to boogie with your bourbon and bacon in hand!
We will close out the weekend's festivities with our "Bacon and Bloodies Brunch" which will be held at SAUCE brought to you by Wheatley Vodka. Enjoy are bountiful buffet along with our amazing Bloody Mary's. Doors open at 11:00, food served until 1:00.
Treat yourself – you deserve to indulge! Purchase tickets to Breckenridge Hogfest – Bourbon and Bacon and see the complete event details @ https://rockymountainevents.com/breckenridge-hogfest/
Sponsors and Partners include: Slifer, Smith and Frampton Breckenridge Grand Vacations, BreckResorts, Main Street Station Plaza, The Village at Breckenridge HOA, Wyndham Vacation Rentals, Hyatt Residence Club, Base Camp Wine & Spirits BreckInsider, Best of Breck, Town of Breckenridge the Merchants of Main Street Station Apres Ski
Rocky Mountain Events, LLC. (RME), was established in 2014 and specializes in delivering unique and extraordinary events to mountain towns across Colorado. The group shares over 40 years of event planning experience in Summit County. RME currently oversees the Master Public Event Calendar for Main Street Station Plaza in Breckenridge.