If you're a returning vendor or have been approved, please use this form to pay with.
The Breckenridge Sunday Market is managed by Rocky Mountain Events and will take place every Sunday from June 11th – September 3rd in the Main Street Station & Village at Breckenridge Plazas.
Vendor Information
All vendors need to download, print, fill out and sign the following forms and bring them to the next Sunday Market.
Breckenridge, Colorado
Breckenridge has been referred to as "the perfect mountain town" and is a prime destination for travelers. The real essence of the Breckenridge Sunday Market is the sought-after, mountain vibe.  Main Street Station Plaza is tucked next to Maggie Pond with stunning views of the Ten Mile Range, especially Peak Nine.  Breathtaking!  The location is also ideal for shopping as it is close to the Breckenridge downtown core and Main Street.  Merchant diversity enhances visitation while hundreds of lodging units are just steps away.  See more fun facts below.
The year-round population of Summit County is nearly 30,000.
Thousands upon thousands of visitors make their way to Breckenridge to experience a slice of the mountain life.
Although we can never guarantee what Mother Nature has in store, we can share that the average summer temperature is 70 degrees during the daytime with thirty percent humidity and 300 days of the sunshine.  Yes.  We know.  Almost perfect!
Main Street Station has underground parking for shoppers and visitors, free for the first two hours.
Full-Time Vendor Rates
$50 non-refundable application fee
$700 – Full Time Vendors (assigned space)
+$100 – Choose your space
$1400 – Full Time Vendors Double Space
$300 – Fresh Produce / Meat Vendor
$600 – Fresh Produce / Meat Vendor Double Space
Additional $200 deposit will be added to all full-time vendor registrations. This is intended to cover missing markets / replacement equipment fees.
Drop-in Rates
$125 / market (+ one time $50 application fee)
2023 Vendor Space Map
Coming soon…
Breckenridge Sunday Market FAQ
Do you have questions about vending at the Breckenridge Sunday Market?  The following information may be helpful for you.
What are the market dates?
The 2023 market dates are each Sunday from June 11th – September 3rd.
How are vendors selected?
All applications will be evaluated.  The Breckenridge Sunday Market Committee, (BSMC), will select vendors based on products, quality of items, the appearance of booth displays, customer service and prior record, if applicable. Once accepted, you will be required to obtain a Breckenridge Business License.  Food vendors will be required to complete a Temporary Food Events Application (Español).
Will I be accepted every year?
The BSMC will review all applications to ensure that a good balance and diversity in products is achieved.  This process does not guarantee annual entry.  Please note, however, that your previous record will be taken into consideration when selecting vendors.
What if I cannot attend every market?
Priority will be given to vendors who can attend all dates.  Although full-time vendors should be present for all markets, we understand that unique situations occur.  Please note which dates you are available to attend on the market application.  Fees will not be reduced.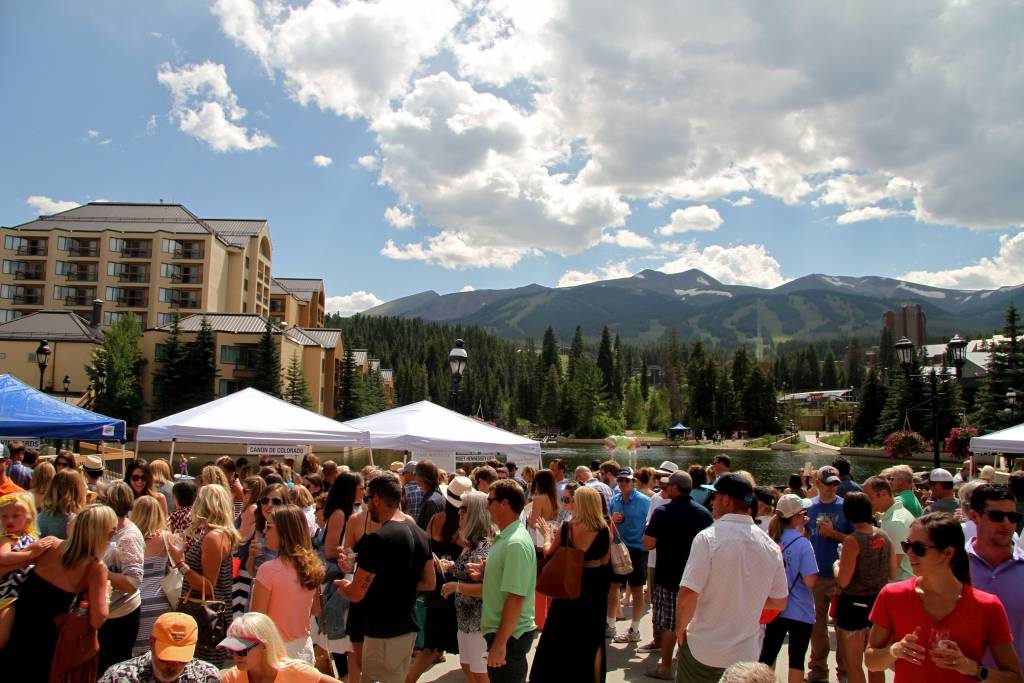 What else do I need to know?
All vendors must comply with the Red, White and Blue Fire Department rules and policies.
All vendors and entertainers must obtain a Breckenridge Business License prior to participation. You must apply at least 14 days prior to the 1st market. The Town charges a $50 fee for this license. (Click the Business License link to apply.)
A Compliance officer will visit each market to ensure that businesses have their license displayed.  Those that do not have their business license, will receive a court summons per the Town of Breckenridge.
All Vendors are responsible for your remittance of sales tax to the Town of Breckenridge.
Returning Vendors can renew their license here.
Food vendors will follow The Environmental Health Department Guidelines and will complete the Temporary Food Events Application (Español).
You will be notified by the event organizer if you have been accepted into the market.  Please note that upon acceptance, all fees will be immediately due.
Please contact us with any questions regarding registration or your business license.
There is a $50 non-refundable application fee.
Tips for Avoiding Penalties
Missed Markets: We will enforce a $50 fine for the first missed Sunday, $100 for every missed Sunday after that. Vendors who cannot attend a market must notify the Director by Tuesday at 4:00pm, before the missed Sunday event. We reserve the right to let you know you are not invited back, and you will forfeit your deposit.
Vendors must be on-site and with vehicles removed from the designated load-in zones by 8:30am.  Late arrivals are not permitted to enter the market and will receive a $25 deduction from the deposit.
The market hours will be publicized from 10:00am – 3:00pm.  Vendors should be open for the duration, rain or shine, so long as participation is safe for all parties.  Vendors should be packed and out of the market area by 4:30pm. A $25 deduction will be taken from the deposit from those who attempt to break down their booth early.
Vendors are required to leave no trace after event departure and are responsible for leaving their space free of debris and recycling. Vendors who leave any trash, recycling or other items will incur a minimum of $25 cleaning fee deducted from the deposit, or actual cost of cleaning required.
Repeat or multiple offenses are not welcome, and all vendors are subject to being dismissed from the market.
Please note that there will be no refunds.
Thank you for your interest in the Breckenridge Sunday Market!